Tips for the perfect sightseeing outfit I Paris
Then you would love to see as much as possible of the sights and highlights this city has to offer. I personally love to explore everything on foot. Often you discover the most beautiful corners and places just in the alleys, which you can not reach by car, metro or bus. So the sightseeing outfit has to be comfortable and practical. For me as a fashion addicted person it is also very important to stay true to my style. So I decided to take my latest haul with me and test it right away – the rose-gold Diesel shoes. These were super comfortable and surprisingly kept my feet warm. As a total frostbite this is really a blessing.
Sightseeing Outfit
Since the weather is quite often very unstable, the layer technique is best suited. If you're out and about a lot and it gets pretty warm, you can shed a layer. On the other hand you just put a cardigan or coat on it in case it gets cooler in the evening. The layering technique is already for years my faithful companion, so I have already weather changes around 12 ° C very well survived. Here I wear 4 layers, top, longsleeve, cardigan and coat. Of course, it must not lack comfort, which is why I have renounced pinching blouses or too tight parts. That is very important to me, is also reflected again in the pants. A pair of wide leg ripped jeans you've seen here before. The wide trouser pockets are super handy for the cell phone or stow away small items that you want to have quickly ready to quickly capture a few snapshots while traveling. At the bottom, here are a few more recommendations for beautiful routes in Paris that we walked along.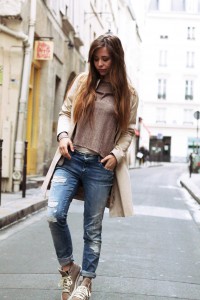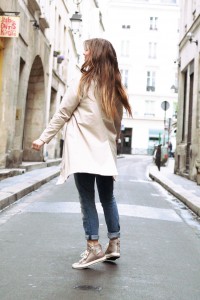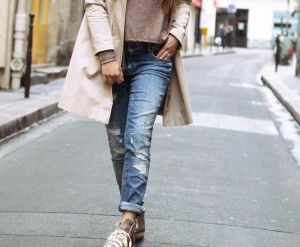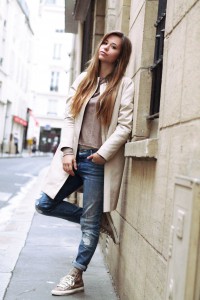 Routes Sightseeing Paris
We started at the Eiffel Tower and walked along the Seine to the Pont Alexandre III. There is among other things the Grand Palais. From the bridge you also have a beautiful view of the Eiffel Tower. You can take the metro from the Pont Alexandre III, for example to the Arc de Triomphe.
Very recommendable is also the Parisian district Marais. It reflects Parisian culture and many Parisians stay here especially in the evening. A typical French neighborhood where the Parisians go to dinner or to one of the numerous bars. We started there, more precisely at the Centre Pompidou and then continued towards Notre-Dame via the Pont Notre-Dame.